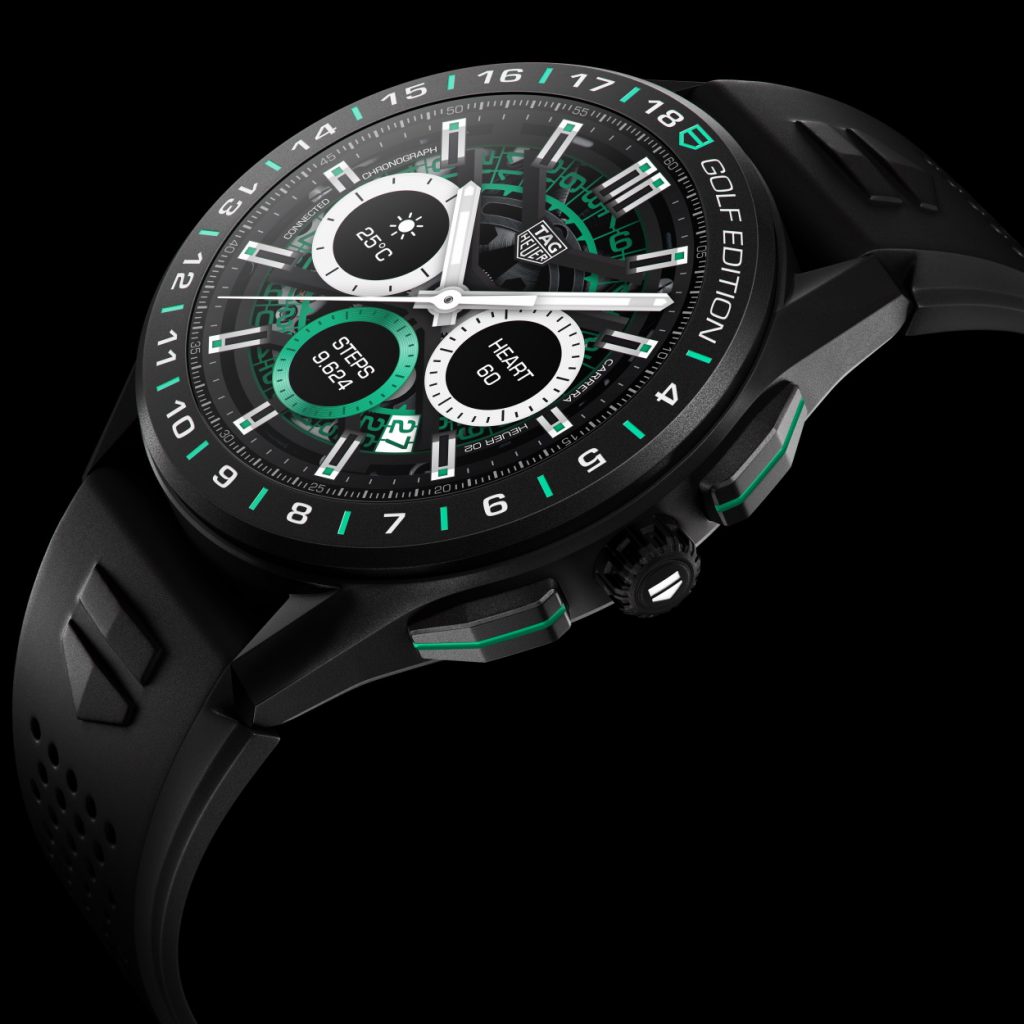 The Swiss luxury watch brand continues to build on the resounding success of the new TAG Heuer Connected, with additions to its line of elegantly crafted timepieces geared towards performance. These novelties include a special edition for golfers, which uniquely combines sporty elegance and the unparalleled functionality of the TAG Heuer Golf app within a custom-designed digital experience suited for any lifestyle.
La Chaux-de-Fonds, Switzerland – 3 June 2020: Combining advanced watchmaking technology with a proven passion for golf and the world of sports, TAG Heuer introduces the Golf Edition of the third generation Connected watch launched in March of this year. This is the second time the luxury watchmaker has created a watch specifically for the golf community – the first edition was presented in 2019 with the launch of the best-in-class TAG Heuer Golf app and was an immediate hit.
Designed and developed entirely in-house by an expert team led by TAG Heuer's Chief Strategy and Digital Officer, Frédéric Arnault, the TAG Heuer Golf app is packed with features to help master the course, such as 3D mapping, hazards distance, shot tracking, scorecards, pro stats and the new Driving Zone feature. It's built for the very best and will support any player who wants to take their game to the next level. Together with the TAG Heuer Sport app and the range of connected services offered by the new Connected watch and Wear OS by Google ™ it is the ultimate companion, both on and off the golf course.
"The TAG Heuer Connected Golf Edition further solidifies our leadership in the luxury smartwatch segment with a one-of-a kind timepiece thoughtfully crafted to boost the player's game and stand out on the course. Playing with a TAG Heuer Connected is a true game changer that will give any golfer an immediate competitive edge," explains Frédéric Arnault. "Marrying form and function in a brand-new way, it offers a smooth, easy-to-use and performance-oriented digital experience not only for golf, but many sports and everyday activities as well. Every detail has been purposefully engineered to help refine the player's strategy, improve their accuracy and remove the guesswork so they can focus on enjoying the game, without compromising on elegance and style."
The TAG Heuer Connected watch is a unique combination of the refinement of a chronograph-inspired timepiece crafted in the purest watchmaking tradition, with a state-of-the-art, custom-designed digital experience geared towards performance. It offers customers a striking and versatile digital wristwatch to enhance their individual lifestyle and golf game. The experience on the wrist is complemented by the TAG Heuer mobile companion app that allows for even greater personalisation and insights into the wearer's other sport activities, such as running, cycling or fitness.
The new TAG Heuer Connected Golf Edition
The ultra-lightweight 45-mm black titanium case echoes the distinct design and refined finishes of TAG Heuer chronographs. The exclusive matte black ceramic bezel features 18 engraved and lacquered graduations, which serve as a reference for the performance at each hole. The crown is now flanked by two functional pushers at 2 and 4 o'clock and a screwed caseback. The white lacquer on the rotating crown and green lacquer on the pushers echo the unmistakable hues of the course. The pushers, in particular, have a dedicated usage for the TAG Heuer Golf app, in addition to other functionalities within the digital experience: They are used to record shots and shot distances with optimal precision in action. This innovative feature is a perfect embodiment of TAG Heuer's heritage of ultimate sports performance measurement.
This high-tech luxury Connected watch is presented on a special white rubber strap with green stitching and a texture that resembles the pattern on a golf ball, as well as a black perforated rubber alternative for everyday and more formal uses. Thanks to its intuitive interchangeable bracelet system, with a single clip motion, the wearer can change up their look seamlessly. They can also purchase additional styles in durable rubber, available in a classic black scale pattern with red stitching, or bolder perforated red, orange as well as khaki, complementing the core steel bracelet option.
Specially for the Golf edition, TAG Heuer is also introducing new variations of its five custom-designed mechanical or digital-inspired always-on watch faces with touches of emerald green matching the striking coloured accents of the case and strap.
The dial features an ultra-legible all-active and flush OLED touchscreen protected by a scratch-resistant sapphire crystal. To extend the battery life, the screen alternates between active and ambient mode, but it always indicates time. The watch is fitted with a magnetic battery charger, and comes with a dedicated travel pouch and accessory box that contains four TAG Heuer-branded tees, a branded divot tool, three branded balls and the additional black rubber strap.
The TAG Heuer Connected Golf Edition will be available as of June 4, 2020, in a select network of retailers and TAG Heuer boutiques, and will also be available at www.tagheuer.com for Australia, Japan, Switzerland, the UK and the US.
Get in the game with the TAG Heuer Golf app
Last year, TAG Heuer launched its in-house Golf app – the most advanced golf mobile app on the market. Since then, the innovative watch brand has engaged more than one hundred thousand passionate golfers around the world. The app is available for free to everyone on iOS and Android and is accessible even without a TAG Heuer Connected watch. It delivers key insights to improve performance, records shot distances and scores, and displays 99% of golf courses around the world (40,000 maps) with a precise 3D mapping technology and regular updates.
With this third generation TAG Heuer Connected, the watchmaker is now introducing a unique feature of the app that has been inspired by professional tour statistics: the Driving Zone. The Driving Zone feature on the player's smartphone will show them the best zone to target based on their past rounds. Each previous tee shot will be mapped out with reliable performance indicators.
The original features of the TAG Heuer Golf app, such as at-a-glance information about distances to greens and hazards, easy-to-read course mapping, scores for up to four players, accurate shot distances, informative stats after every round, and the ability to use the app when playing on almost any course in the world, are of course also part of this new version.
Living a TAG Heuer experience, on the course and every other day
The TAG Heuer Connected Golf Edition is first and foremost a Connected watch, and the TAG Heuer Golf app is only one of many other functions that this timepiece has to offer.
In addition to golf, the newly introduced TAG Heuer Sports application also supports tracking of running, cycling, walking or fitness sessions, with even more activities on the way. Wearers can gain detailed insights into their performance directly on the watch as well as on the TAG Heuer mobile app, and they can even synchronise their data with Apple Health or Strava.
Designed with high-intensity activities in mind, the TAG Heuer Connected Golf Edition offers sapphire glass screen protection, rubberised straps for optimal grip, breathability and comfort, a 5 ATM water resistance rating, suitable for low-velocity and shallow-water activities, and a 430 mAh all-day battery optimised to include a one-hour sports session using GPS, audio streaming and heart-rate monitoring. For longer activities such as a round of golf, the battery can support up to six hours of constant Sports app use – and it can be fully recharged in just 1.5 hours at temperatures of between 15° C and 45° C.
Activities are recorded with maximal precision and accuracy thanks to top-of-the-line sensors, including a new non-medical-grade heart-rate monitor, a built-in GPS, a compass, an accelerometer and a gyroscope.
Powered with Wear OS by Google, the TAG Heuer Connected Golf Edition also supports wearers throughout their day with invaluable services such as Google Assistant and Google Translate using the microphone located on the left side of the case, e-mail and message notifications, Google Pay in shops and countries where this service is enabled, as well as music controls, an agenda, weather, maps and more with Google Play and its wide selection of apps.
A hole-in-one with TAG Heuer on your wrist
Designed, developed and optimised for players of the world's number one individual sport, the TAG Heuer Connected Golf Edition is the ultimate timepiece for golf enthusiasts and lovers of fine watchmaking. The new model underscores the brand's passion for sports and its commitment to developing avant-garde technology housed in refined and elegant designs – it is the ideal companion for golfers who desire a statement luxury watch that will help improve their game while offering the daily benefits of a connected and active lifestyle.
Facts and figures:
TAG Heuer Connected Watch Golf Edition
Reference SBG8A82.EB0206
Hardware
Diameter: 45 mm
Thickness: 13.5 mm
Weight: Titanium case and rubber strap: 86 g
Water resistance:5 ATM
Battery: 430 mAh all-day battery
Battery life: All-day standard use (20 hours including a 1-hour workout), 6 hours of sport use (using GPS, HR and music)
Charging time: 100% in 1.5 hours at a temperatures of between 15° C
and 45° C
Sensors: Heart-rate monitor, compass, accelerometer,
gyroscope, NFC, microphone
Processor: Qualcomm® Snapdragon WearTM 3100
Connectivity: BT SMART, WiFi
GNSS: GPS, GLONASS, BeiDou, QZSS
Display: OLED display 1.39″ 454×454 pixels (326 ppi)
Navigation: With touchscreen or crown and pushers
Top button: launch Sports app
Middle button/crown: Google navigation
Lower button: stopwatch
Data accuracy: The data and values generated or calculated by the TAG Heuer Connected watch when tracking activities are intended to provide a close estimation of the tracked metrics and activities. Those data and values may however not always be fully accurate and must not be used for purposes requiring absolute precision. While the TAG Heuer Connected watch includes a heart-rate monitor, it is not a medical device nor is it intended to provide medical diagnostic services or medical advice. It must not be used to diagnose, treat, cure or prevent any disease.
Case
Matte black DLC titanium grade 2 sandblasted case
Black sandblasted ceramic bezel with special Golf engraving (18 holes)
Flat sapphire crystal
Black steel and rubber crown at 3 o'clock with white lacquer logo
Black steel shaped push buttons at 2 and 4 o'clock with green lacquer
Black DLC titanium grade 2 caseback

Strap
Quick-change system
Bi-material rubber strap construction
White and black rubber strap with golf pattern
Additional black perforated rubber strap
Black DLC titanium grade 2 folding clasp with double safety push buttons and TAG Heuer shield
Special packaging including one extra strap, divot tool, 4 golf tees and 3 balls
ACCESSORIES
Special white leather travel pouch with green stitching
Special white leather golf pouch including:
4 TAG Heuer branded tees
TAG Heuer branded divot tool
3 TAG Heuer branded balls
Secondary strap compartment
OS
Operating system: Wear OS by Google
Google's smartwatch operating system, Wear OS by Google, provides access to a variety of features including apps and watch faces available on Google Play. More info at: https://wearos.google.com
Google, Android, Google Play, Wear OS by Google and other marks are trademarks of Google LLC. Wear OS by Google works with phones running Android 6.0+ (excluding Go edition) or iOS 12.0+. Supported features may vary between platforms and countries.
Google Assistant is not available in certain languages and countries.
Google Pay is available for selected countries and bank partners.

WATCH EXPERIENCE
Custom-built TAG Heuer apps
Watch faces
Five custom-built watch faces
Edit and customise watch faces on the watch or mobile phone
Download new TAG Heuer watch faces directly on the watch or on a mobile phone
Sports watch app
Custom-built sports tracking app with GPS and HR sensors
Sports: golf, running, cycling, walking, fitness and other
Metrics collected: distance, duration, pace/speed, HR, calories
Feedback: haptic feedback, 3-second countdown, automatic lap every km/mile, manual lap at the push of a button
Sports and wellness tiles for a quick overview of each activity over a week/month/year
Other TAG Heuer-branded micro apps
Stopwatch
Timer
Alarm
TAG HEUER GOLF APP
At-a-glance information about distances to greens and hazards: The TAG Heuer Connected smartwatch displays distances to greens and hazards. The easy-to-read information has incredible precision that is accurate to within one meter. The position is captured on the watch using the integrated GPS.
Easy-to-read 2D and 3D course mapping: This Golf Edition smartwatch stands out with its unique interactive 2D course mapping. On the phone, highly realistic 3D renderings provide the best view of the course. Rather than just displaying distances, the TAG Heuer Connected Golf Edition displays high-end mapping of the entire hole using vector technology that shows the course in more detail – including the bunkers, fairways and rough – compared to the satellite mapping technology used by other similar apps. The maps are interactive and scrollable.
Record scores for up to four players: Taking the game into the digital age, the app replaces the paper scorecard with an interactive alternative. Within seconds, the player can enter the wearer's score and those of their golf companions and keep track of the leader board as they go. Whether they choose stroke play, match play or stableford, the TAG Heuer Golf app can keep track of the score on the wearer's wrist.
Accurate shot distances: When the shot-recording feature is activated, the shot distance can be recorded as the player walks to their ball. Shot distance is accurate to within one meter.
Driving Zone: On each hole, visualise each of your previous tee shots landing zone and improve your score by targeting the optimal zone for you.
Informative stats after a round: All the information entered in the app from the watch can be instantly sent to a smartphone or stored locally if the phone is not nearby. After each round, the player can get insightful statistics, including putting average, longest drive, score distribution and more.
Play on any course in the world: TAG Heuer Golf has maps of more than 39,000 courses around the world. It can accompany any player no matter where the love for their sport takes them. The database is constantly updated to include new courses or changes to existing courses, ensuring that the 3D maps are as accurate as possible.
TAG HEUER MOBILE COMPANION APP
Custom-built TAG Heuer mobile companion app for iOS and Android
Watch face tab
Browse and download TAG Heuer watch faces
Edit and customise watch faces
Sports tab
Review workouts, including interactive map, splits, graphs (HR, pace/speed)
History list, including golf workouts (link to the TAG Heuer Golf app)
Connect with third-party apps, e.g. Strava and Apple Health