Marrying the depth of mineral with the warmth of red gold, this new composition of the Grande Seconde Off-Centered offers a pure, atypical vision of Fine Watchmaking as dreamed up by Jaquet Droz
Daring to create contrast. Playing with light. Transforming materials. Revealing every nuance. The new Grande Seconde Off-Centered by Jaquet Droz does all that – and so much more. Its new theme of gold and black jade brings together the principal codes of the Maison in a 43 mm timepiece that breaks with conventions.

While the design of the Grande Seconde, created by Pierre Jaquet-Droz almost three centuries ago, is ever recognizable, it exudes a masterful digression, a resolute difference: the time is off-center. The alignment of the hours and minutes with the independent large seconds is respected but along a slightly slanted axis, from 1 o'clock to 7 o'clock. With a new century comes a new way to be bold.

For the dial, Jaquet Droz gives pride of place to one of its most emblematic skills: the masterful use of minerals. From the depths of the Earth to their revelatory enhancement by the hand of man, the mineral dials of the Maison offer unique motifs time and again. At center stage are stones sometimes dating back several millions of years. A precious geological journey in which exquisite fragments reach us in all their singularity.

Black jade, also known by its scientific name of "amphibolite," is one such treasure. Almost exclusively of Australian origin, it comes from two principal sites in the south and east of the continent. It is an extremely hard stone, thanks to the presence of metal in its composition, and requires lengthy polishing to reveal the tiny silver inclusions that are its hidden secret. Almost imperceptible to the naked eye, they enrich black jade with a unique reflection that allows knowledgeable collectors to distinguish it from onyx.

In China, black jade is referred to as "treasure." A symbol of nobility, perfection and immortality, it has long been appreciated for its talismanic properties. Black jade amulets are often worn to protect oneself and to concentrate their powerful energies. In ancient cultures over five thousand years ago, it was used as an amulet to attract good luck and fortune. For the Mesoamerican peoples, it had special power and represented elegance. It was used to carve out images of the gods. Finally, for pre-Hispanic peoples, black jade possessed the supreme energies of the universe and was even more precious than gold.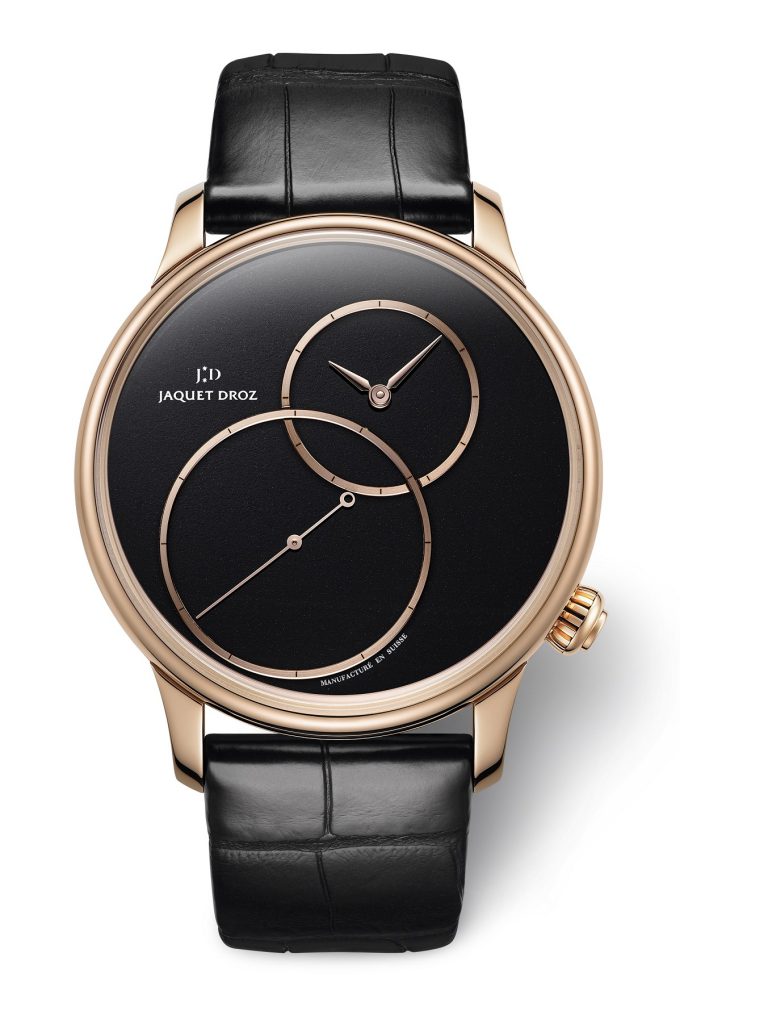 Today, black jade is at the heart of the new Grande Seconde Off-Centered, limited to 88 pieces. Worked by hand as a mineral sheet just 1mm thick, it is paired with a red gold case featuring warm, coppery highlights. The two circles and fine hands are also in red gold, creating a singular contrast that reflects the Art of Astonishment by Jaquet Droz.
« Some watches tell time. Some tell a Story »
Website: www.jaquet-droz.com
Save Up To 60% Off Luxury Watches